Canada at The Temple Club, 9/14/06 plus Canada, The Word Play and El Boxeo ("Awake and Dreaming" release party), 9/16/06
If it's possible to love Canada (the band as well as the country) too much, than Just Haircuts and Jackets is guilty as charged.
Now look at this picture and try to convince me that's a bad thing:
To be a successful live band, you have to want it. And Canada fucking
want it
. You can't pull off the kinds of splits Aaron Saul was pulling off Thursday night — while playing the melodica, mind you — if you don't.
EDIT:
I need more of their cover of Dylan's "The Lonesome Death of Hattie Carrol," which was the highlight of Thursday's set and the kick-off to Saturday night's festivities. All the soaring chorus you'd expect from the band, coupled with meandering verses OF BOB DYLAN (I'm an idiot and I didn't realize this was a Dylan song. Extra idiotness because this song is on one of the Dylan records I own, but don't listen to very often. Thanks for pointing out my
faux pas
).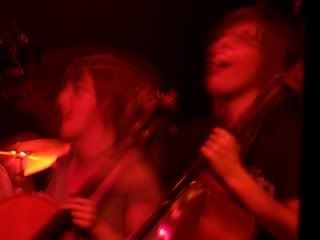 The Word Play word played well, but Annie was socializing during their set, so there's no pics. You'll get the full Haircuts and Jackets treatment soon, gentlemen. Just make sure you bring
Tina
with you again.
Having had El Boxeo's
Awake and Dreaming
on a near-constant loop since receiving it in August, I was most anxious to hear how the songs played out live. It's just one of those records where I imagine the music wasn't played by musicians, but instead fell from the sky and got put to tape.
Well, there are in fact musicians behind
Awake and Dreaming
, and they put on one hell of a live show. They also have the coolest dancing mascots imaginable (though I missed the
Child Bite mascots
at The Magic Stick, so I don't know how accurate that statement is).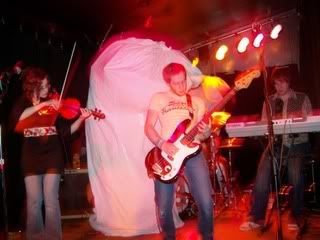 Their set was all about the new record, starting with a wonderfullly nightmarish rendition of "Chopping Up Vampires." The way the ghostumbrellajellyfish shimmied to that one, you could tell you were in for nothing but good. Every nuance of the record was hit in the performance, even if some of the vocalists seemed a little under-rehearsed.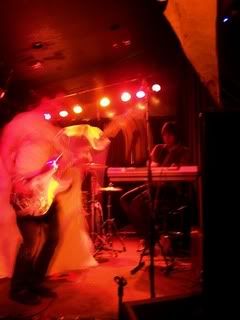 Canada
Website
MySpace
Upcoming Michigan shows:
Canada
Website
MySpace
Upcoming Michigan shows:
Friday, Sept. 29
— Hell's Half Mile Fest, Masonic Temple in Bay City w/ The End of an Era, The Nice Device, Clear Days Always, The Esperantos.
Saturday, Oct. 7
— The Barking Tuna Fest, The State Theater in Kalamazoo w/ Spank Rock and RJD2.
The Word Play
Website
MySpace
El Boxeo
Website
MySpace
Upcoming Michigan shows:Fri. Sept. 22
— John Krohn's mystery house in Lansing
Sat. Sept. 30
— Benefit for the Neutral Zone at The Blind Pig in Ann Arbor w/ The Avatars, Dabenport, Virgil Waters