It's the Great Pumpkin, Just Haircuts and Jackets! (The Pop Project, Chris Bathgate, The City on Film, Those Transatlantics and Child Bite)
Well it would appear another Halloween has come and gone. Candy was eaten, booze was drank and non-creative females everywhere affixed "sexy" to things that weren't and already were "sexy" (a girl at the Blind Pig totally asked me if she could buy my the hat from my Lincoln Continental costumes so she could be Sexy Abe Lincoln).
To commemorate Just Haircuts and Jackets' first Halloween, here's the first-ever Just Haircuts and Jackets Halloween Costume Constest!
Most Committed to Costume: Chris Hatfield of Those Transatlantics as Hunter S. Thompson
Dude had the good doctor of journalism's act DOWN, greeting much of the crowd at Rubbles with a gruff yell of "BASTARDS!" It didn't carry over to the stage, but if he was acting as twisted as Hunter, there's no way he could pull off all those keyboard runs.
Most Elaborate Costume: Mike Spence of Those Transatlantics as a ZOMBIE!!!!!
BRAAAAINS!!!! Seriously, I didn't know who the undead creature hanging around with the Trannies was until he put a guitar on. Extra points for Sam Raimi-worthy use of fake blood.
Best Costumed Cover: Tie, Weezer's "The Good Life" as performed by The Pop Project and The Beatles' "Happiness Is A Warm Gun" as performed by Those Transatlantics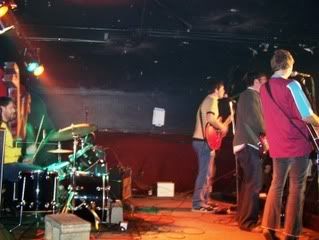 When I heard The Pop Project was going to play
Pinkerton
in its entirety, I flipped out. I'm sure I'm not alone when I say Weezer's sophomore disc is one of my all-time favorites, and the Pop Project boys certainly did it justice — even while staging an instrumental Chinese fire drill. I shouted along to "The Good Life" like the 17-year-old Rivers Cuomo devotee that I still kind of am.
Don't know if you can tell it from the guitar breakdown in "I, Avalanche," the "ooh ahhs" in "To the Editor" or 80 percent of "I Had An Idea, But I Left It At Home," but Those Transatlantics have a thing for The Fab Four. They opened up their Hallow's Eve set at Rubbles with not one, but two songs from the mop-topped Liverpudlians' studio-only days — "I Want You (She's So Heavy) being the other. So pitch-perfect it was almost a let down when they started playing their own stuff (almost).
Most Popular Costume: Freddie Mercury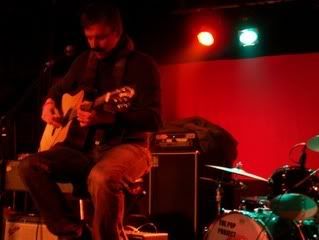 A survey Headline News broadcast the other day said this year's two most popular costumes were witches and pirates. Well, in Just Haircuts and Jackets Land, flamboyant mustachioed frontmen outnumbered sorceresses and buccaneers 2 to 0 to 0.
Not that it was much of a stretch — The City On Film's Bob Nanna was playing stripped-down acoustic Queen covers, and Child Bite's Shawn Knight always kind of looks like
The Game
-era Freddie. Bob's costume may have hinged on a fake mustache, but fake mustaches are awesome and hilarious, so no complaints here.
Best costume accessory: Light-up Weezer =W=, handcrafted by Adam Kempa
Post-
Pinkerton
conversation:
Me: Hey Adam, what are you doing with the W?
Adam Kempa: It's going in my basement!
Most Earth-shattering non-costumed, non-cover set: Chris Bathgate
Apparently Chris was saying at the Half-Ass Halloween show that he doesn't know if he'll ever be able to top his Thursday set at The Blind Pig. It was a little slow to start with, but I can totally see where he's coming from.
Thus concludes the Just Haircuts and Jackets Costume Contest. Congratulations to the winners. I'm sure they'll cherish this honor for years to come.
Heads up for the November gig calendar in the next few days!
The Pop Project
Web site
MySpace
Chris Bathgate
MySpace
The City on Film
MySpace
Those Transatlantics
Web site
MySpace
Upcoming Michigan Shows:Dec. 9
— The Magic Stick in Detroit with Anathallo, Page France and Javelins
Child Bite
Web site
MySpace
Upcoming Michigan Shows:Nov. 17
— The JAMC in Jackson with Lone Wolf and Cub and Zoos of Berlin
Nov. 18
— House show with Man at Arms and Abner Trio (more info to come)
Nov. 22
— The Lager House in Detroit with Thunderbirds Are Now! and Lee Marvin Computer Arm