Year-End Spectacular!!!!!
And so we come to Just Haircuts and Jackets' first year-end entry, and like any blog worth its weight in tubes, we've got lists! Annie and I have both chosen to highlight some of our favorite moments from the year that was — she focusing on the live shows we've covered (and a few we didn't) and I choosing some recorded minutia on top of shows. Hope you enjoy the lists, and thanks for making 2006 great! We'll see you in the New Year (or when I post the Mitten Fest pics and entry, whichever comes first).
Annie's #10: The Recital, Zach Curd, El Boxeo at The A.C. Rich Building, Pontiac, 11/4/06
The guys (+ Lisa and Kate!) in Sub Sprawl bands never cease to put on really fun shows. This night at AC Rich was a perfect evening of supportive friends and heartfelt music. Zach Curd played on a real piano and I loved it.
Erik's #10: Anathallo at Lollapalooza, 8/4/06
As a Michigander, you couldn't help but swell like a balloon full of pride as our very own chanting and clapping folkees took the Playstation Stage at Perry Farrell's "big, beautiful show" (the balloon thing at the end of "Entropy" works way better on a larger, outdoor stage, in case you're wondering). Anathallo: Mitten State ambassadors to the alternative music world-at-large.
Annie's #9: Rescue at The Litter Box, Lansing, 10/14/06
I wasn't a huge fan of Rescue until I saw them perform songs from their most recent album at The Litter Box.
Paranoid
has completely won me over and is one of my favorite Michigan albums of the year.
Erik's #9: The chorus of "Cold Mouse Winter" by Canada
Does anybody else scream-sing along to this part like Annie and I do? It's pretty simple; you can probably pick it up in the midst of your first listen. Better question: Does the band mind that we're screaming this part at them?
Annie's #8: Canada, Javelins at Mac's Bar, 6/25/06
This was the first time I had seen either of these bands perform. Neither performance was the best I've seen from the bands, BUT this show began two of my very detailed love affairs.
(my favorite picture of 2006!)
Erik's #8: Child Bite at The A.C. Rich Building, 10/7/06
Citizens of the future will look upon the city of Pontiac in wonder as the only city in (what was once) Michigan that managed to withstand several atomic blasts. Archeologists will be particularly puzzled by the strange stains on the floor of the A.C. Rich, but when they consult the ancient tool known as the Internet, they'll know what caused them: mutant ball sweat from the Child Bite Cyclops.
Annie's #7: Anathallo, "A Great Wind More Ash" at the Magic Stick, Detroit, 12/9/06
This song is already one of my favorite Anathallo songs, hearing it live was incredible. I managed to sneak onto the side of the Magic Stick stage, and upon encouragement from a friend, I crept closer to the band to take pictures. I was RIGHT NEXT to the spastic drummer! I couldn't hear myself think, I could only feel the song being performed. It was fucking unreal.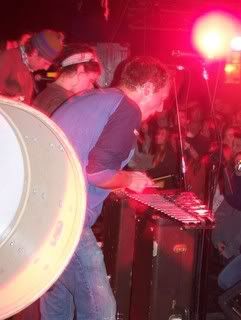 Erik's #7: The fluttering flute on "Chopping Up Vampires" by El Boxeo
This song scares the hell out of me and I love it. It's a ride of terror from the droning strings and unintelligible vocals in the opening to the very last chop of overdriven bass, but it reaches full frightening capacity around the 3:28 mark. Listen to it with headphones on to hear the flute flit through your head like a ghost (or a jellyfish. Or a jellyfish-ghost. Either way it's made out of an umbrella).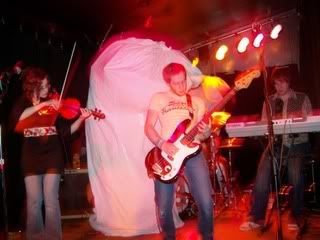 Annie's #6: Joiya and The Word Play at Small's, Hamtramck, 8/3/06
This was the first time I'd ever seen The Word Play and was totally impressed. I was completely in awe of the drummer (Brandon Szomak)…the music was non-stop! Joiya's
Sometimes Is and Kinda
was my summer soundtrack, and hearing "June/July" and "Sleep for a Week" played live was SO satisfying. Especially when Dave Lawson hopped up on stage and contributed his wonderful vocal harmonies and human-music stand trick. I don't think I stopped smiling the entire night.
Erik's #6: "Oh Zach, you'll never understand this violent bloody revolution"
What has two thumbs and a fondness for band members having in-song conversation? THIS GUY! The Pop Project's "Hearts and Flowers" is insanely catchy, but this little line of self-conscious smack talk is what gets lodged in my brain each and every time.
Annie's #5: Mason Proper at Mac's Bar, Lansing, 6/12/06
Annie Moss was introduced to the genius of Mason Proper. Momentous occasion. After Mason Proper played for 30 seconds, I turned to my concert buddy and said, "I LOVE this band." I think my mouth might have been gaping open during their entire performance. It was awe inspiring.
Erik's #5: The Hard Lessons Post-Christmas Blowout, The Magic Stick, 12/26/06
A late entry, having just occurred yesterday. I didn't want to blog about this one, I just wanted to sell merch (which I really love doing, if anyone out there ever needs a merch guy), talk to people and make private observation of what was clearly the biggest ticket in Detroit in the waning days of 2006. There were Santas, beautifully cheesy family portraits, Child Bite, Great Lakes Myth Society, The Satin Peaches and a performance from The Hards that left me remarking to people afterwards, "They're going to be the biggest fucking band in the entire world." Hopefully the first of a long-running post-Christmas tradition.
Annie's #4: Chris Bathgate and The Pop Project "Halloween Covers" show at The Blind Pig, Ann Arbor. 10/26/06
This was Chris Bathgate's absolute best performance, his band sounded AMAZING. I'd had a hard time deciding whether I prefer "Dreamland Theatre/Acoustic Bathgate" or "ArbourFest/Big Band Bathgate;" however, after witnessing this breathtaking Blind Pig show, it was official: Matt Jones's drums, MC Trashpedal's noises and the rest of Chris' buddies create the ultimate Chris Bathgate experience. ALSO that night was the infamous Pop Project cover of
Pinkerton
. One of my favorite albums, some of my favorite performers — such a great time. There was a lot of love onstage that night between The Pop Project and the glory of Weezer. Magic!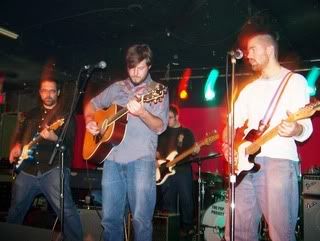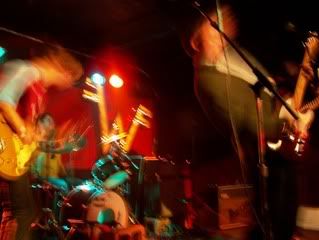 Erik's #4: The a cappella chorus from "Across the Bridge" by Great Lakes Myth Society
Having never crossed the Mackinac Bridge, I can't rightly say if it is as liberating as GLMS makes it sound. I can tell you, however, that when they hit this part in concert, I feel like I could run all the way to St. Ignace, no problem.
Annie's #3: Mason Proper, The Mighty Narwhale and Starling Electric at the Blind Pig, Ann Arbor. 6/29/06
This was my first taste of The Mighty Narwhale and Starling Electric (yum!). AND it happened to be the best Mason Proper performance I've seen. This evening also produced some of my very favorite photographs from 2006.
Erik's #3: Hearing "Boys and Children Sing for Summer" by Those Transatlantics for the first time
Ivy couldn't believe I had never heard Those Transatlantics, and such was her incredulity that she gave me a copy of
Knocked Out
(sorry guys, I have a real copy now!). I was walking down Grand River one day when I thought I'd give the band a listen. Spring was on the brink of springing, the sun was shining bright; finger-picked guitar, glockenspiel and sugar-sweet harmonies never had better weather accompaniment. Then suddenly, out of nowhere, the song doubles back on itself and launches into a tirade of guitar soloing that I figured had been banished from Indie Rock Land. I really wish they would do an outro more like that in the live setting.
Annie's #2: Detroit Summer Smash at The Lager House, Detroit. 8/24/06
The Best Show Of The Year. Best performances by Canada and Great Lakes Myth Society that I've ever seen. About one year back from that night, Canada played its very first show with GLMS (at the Lager House I think!), and it was apparent that all the musicians felt the magic of that nostalgia. This evening also produced the name and solidified concept for Just Haircuts and Jackets. Erik and I had the best night ever.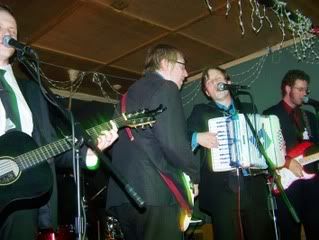 Erik's #2: "The Last Parade on Ann Street" by Chris Bathgate
Holy crap. Hoooooooooooooly crap. All apologies to Annie, but I think I've officially decided that as choice as extensive overdubbing and big noisy bands are, Chris's finest song is at its most heart wringing when it's just that dreamy voice and some contemplative strums. Never end a relationship, move anywhere, graduate from school, euthanize a pet or sell a beloved childhood keepsake on eBay without first listening to this song (then buy Chris's record with the money you make off said keepsake).
Annie's #1: Madison Fest at Madison House, Ann Arbor, 8/18-20/06
Where it all began. I was just completely overwhelmed by the amount of talent and love involved in the Michigan indie music scene. I had seen and enjoyed many local concerts throughout my previous year in MI, but it wasn't until Madison Fest that I really fell in LOVE with our collection of Michigan music.
Erik's #1: Madison Fest
Yes, it's an obvious choice for number one, but we wouldn't be writing these top ten lists if it wasn't for these three days in the backyard of a rental house in Ann Arbor. It was in that backyard where I was first wowed by Canada, Great Lakes Myth Society and Chris Bathgate. It was in that backyard where I first witnessed Zach Curd over-explaining his songs before he played them. It was in that backyard where I was convinced — for approximately twenty minutes — that I should propose marriage to Betty Marie Barnes.
In short — and this is where the drooling is really going to begin — it was a transformative experience. At the beginning of summer 2006, I thought something special was happening with the music in this state. By the end of August 20, 2006, I
knew
there was something special happening with the music in this state.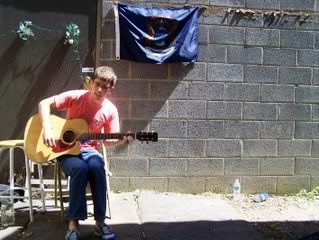 More favorite photos:
Those Transatlantics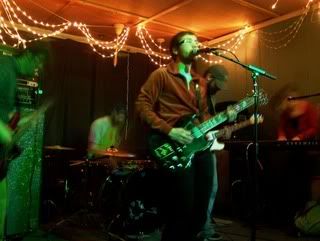 Rescue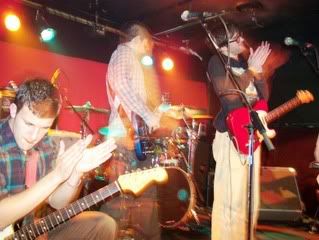 Mason Proper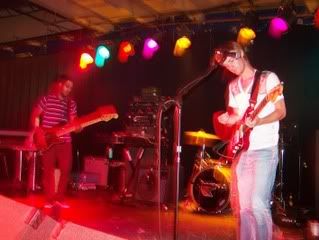 Javelins
Chris Bathgate and Matt Jones
The Hard Lessons