Making up for lost time
December is proving to be one of the busiest months Just Haircuts and Jackets has seen yet! This entry is going to cover a lot: so gentle readers continue on to the end! Michigan is having a good season so far…
El Boxeo at the Panopticon in Lansing, 12/1/06
The Panopticon has been hosting shows for a few months now, and it was a good venue for El Boxeo. With no vocal amplification, the band played a mostly instrumental set (characteristic of these Livonians), with the exception of a big group sing-along for the final song, "Tons." Quirky as always, bassist Zach Norton brightened up the dark and damp basement venue with a balloon-adorned shirt. It provided new bass-playing challenges, but the band rose to the occasion and played a great set.
El Boxeo
Myspace
Website
The Panopticon
Myspace
Those Transatlantics, Javelins, Anathallo and Page France at the Magic Stick in Detroit, 12/9/06
The Magic Stick was well populated, which was a very pleasant surprise.
I unfortunately missed Those Transatlantics.
Javelins played for the first time in several months, and unearthed some new songs which was really exciting. (Due to my late arrival, I wasn't able to get anywhere near the stage and could not adequately photograph the band)
Page France had spent the day recording with Canada for an upcoming split. The Canadians were invited to the stage for Page France's final song; lots of clapping, loud singing, hand drumming, an unexpected visitor, smiles and laughs ensued. I think Canada has found its sister band, it was a great combination. Keep on the lookout for recordings and possible tour dates from the French Canadians.
Anathallo was magical. Hearing "A Great Wind More Ash" played live was breathtaking. We're happy to have this band back in Michigan, at least for a little while.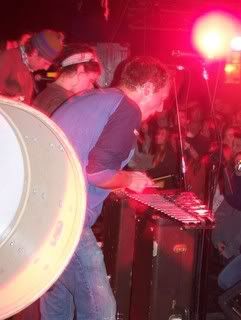 Those Transatlantics
Myspace
Website
Javelins
Myspace
Anathallo
Myspace
Website
Suburban Sprawl Music's 2006 Holiday Compilation
is here! And it's fantastic! You can listen to the entire album on
Suburban Sprawl's website
along with songs from previous years.
12/12/06- Benoit Pioulard was
Spin.Com's Band of the Day
!
Mark your 2007 calendars for the Keweenawesomefest. 2 days of music (Feb. 23-24) in Houghton, MI. Bands already booked include: Matt Jones, Misty Lyn, Gregory McIntosh, MC Trashpedal and The Mighty Narwhale. Check the myspace page often- many bands are trying to get into this festival!
Keweenawesomefest
Myspace
Finally, Erik and I would like to announce our collaboration with the Ann Arbor based music website, Celestial Biscuit, beginning in January. We'll be contributing abbreviated versions of our Ann Arbor/Ypsi concert coverage to the site. So be sure to check out Celestial Biscuit for info on the Ann Arbor/Ypsi music scene!
Celestial Biscuit
Myspace
Website
Well there you have it. Check back soon for an end of the year concert calendar (it's an overwhelming list!), and some of our favorite highlights from the past year. 2007 looks incredibly promising for Michigan music. We've got our laptops, cameras and (most importantly) ears ready.
Happy Holidays!
xoxo,
annie moss